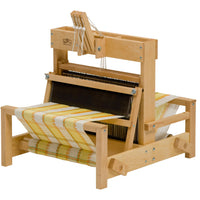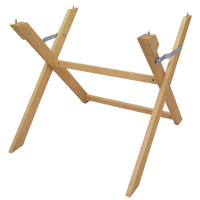 Table looms are great for classroom use, workshops, sampling, and small projects. They are ideal for learning about four- and eight-shaft pattern weaving, since the direct tie-up through hand levers allows for infinite experimentation.
Schacht table looms are expertly crafted of the finest hard maple and built for maximum structural stability. Many schools use our table looms and find they weather well after many years of heavy use.
Fine-toothed nylon gears are use on both the warp and cloth beams, which allow precise tension control. Use either hand to select shafts with the front-mounted levers—you can also see which shafts are raised at a glance.
The looms come with a stainless steel reed in your choice, please select an option before adding to cart.
Made to order, delivery 2-3 weeks.
This loom includes:

Stainless steel reed (choice of 6, 8, 10, 12, or 15 dents/inch)
300 - inserted eyelet needles
3 - apron bars
2 - lease sticks
Optional accessory:
Optional loom support
Additional Ros