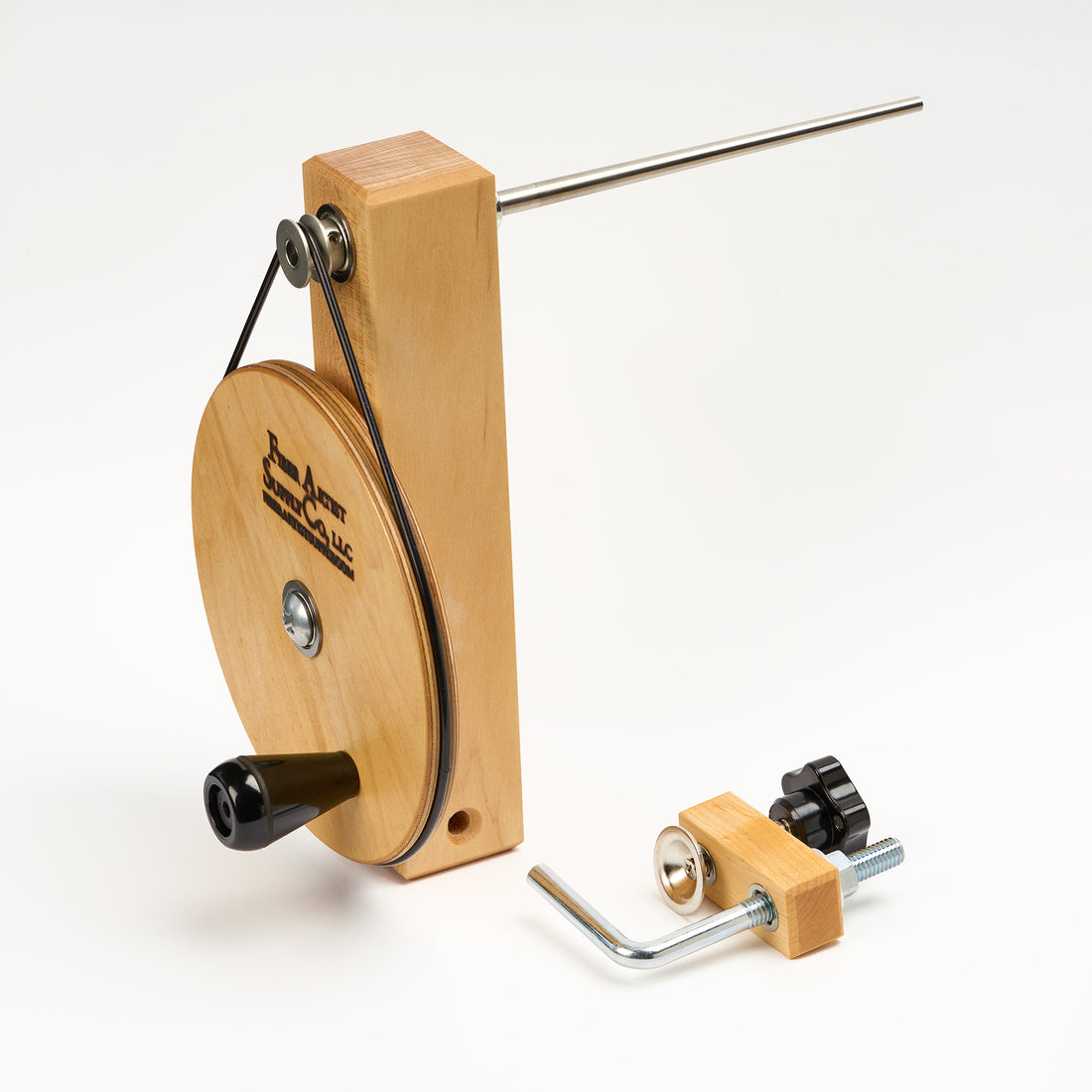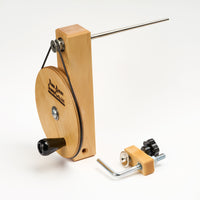 This hard mapple weaver' bobbin winder will make short work of winding bobbins while adding a beautiful touch to any weaving studio. Simply designed and carefully constructed, this winder does not disappoint.
Each bobbin winder is crafted from hard maple and maple-veneered premium plywood and finished with natural Danish Oil. This winder will accommodate most commercially available bobbins, and many pirns. LeClerc bobbins, Schacht pirns and bobbins, and Harrisville bobbins are all known to fit. This winder WILL NOT work with Ashford plastic bobbins. The listing photos above show some of the bobbins that will work well with this winder. The bearings are sealed and require no maintenance, and the belt is high-quality, long-lasting urethane belting (the same belting used in many spinning wheels). This bobbin winder winds at a 11:1 ratio (one turn of the wheel turns the bobbin 11 times).
The Strong Hold Ultra Clamp that is included will accommodate any lipped table up to 2-1/4" thick. Bobbins are not included.
FREE SHIPPING ON PURCHASES OF Can$200 OR MORE
This offer is valid in Canada only and excludes taxes and gift cards.
*A surchage may apply on the shipment of large items as well as for shipment to remote areas. These fees are independent of the free shipping offer.
Orders are delivered in 2 to 5 business days in Canada. (Please note that the delivery of some items may take longer).
FREE RETURNS
This offer is valid in Canada only and excludes taxes and gift cards.
* Shipping fees are non-refundable, as are surcharges for large items and remote locations.

CONTACT US
If you have any questions, please contact us at info@irenetextile.com
This section doesn't currently include any content. Add content to this section using the sidebar.