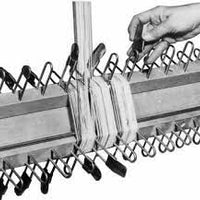 Sectional Warp Beam - LECLERC
This system consists of 4 rake-like pieces that are attached to the plain beam on the loom or onto the double warp beam. It allows warp beaming 1" or 2" wide (25 mm or 50 mm) at a time and requires a number of spools according to the sett of warp ends.
On the Dorothy and the voyageur, the clamps are fixed directly on the beam; it holds 5" (12,5 cm) by turn. The Compact holds 15'' (38 cm) per turn while on an Artisat or Inca, it holds 16" (40 cm) per rotation. On a Fanny, Mira, Nilus, Nilus II, Colonial I, Kebec or Nilart, it holds 19" (48 cm) per rotation.
A sectional warp beam is especially appreciated by the weaver without a helper since the warp can be beamed easily by one person.