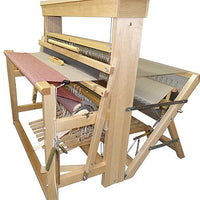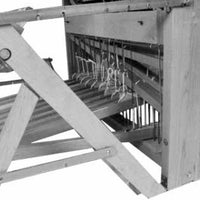 Leclerc Nilus II Jack loom
The Nilus II loom has been designed with a stabilizer foot, for better stability. The shed is always good with any tie-up combination. On the jack-type version, the top can be easily removed, allowing easy access to the shafts for the addition or removal of heddles. Heddles used are 12½" (31.7 cm) long. It is a loom with independent shafts, guided by pegs at each side, preventing friction of the frames which are pushed upwards by an underneath mechanism.
Nilus II looms have non-sliding polyvinyl foot pads under the uprights to keep it solid on the floor. It is equipped with a friction brake giving perfect tension every time. The front cloth beam and back thread beam are removable for easy threading, and the warp beam is also removeable for outside beaming when required. All looms are equipped with a regular plain beam to which a set of rake-like pieces can be added to convert it into a sectional warp beam.
One year warranty.
Made in Quebec.