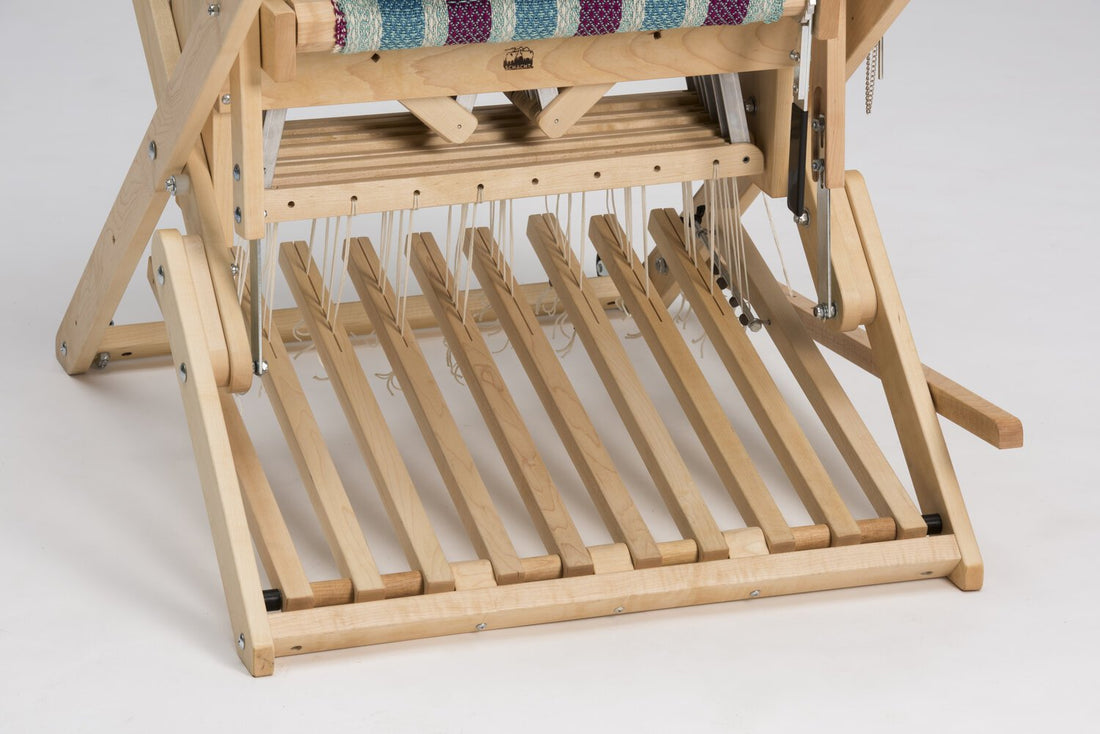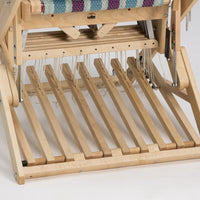 Wolf Pup Loom 8.10 - 18" - Schacht
The Wolf Pup 8.10 (shown here with the optional rear double beam attachment) 8 frames and 10 treadles with an 18 inch weaving width. As with other Wolf looms, the Wolf Pup 8.10 is designed with an X-shaped frame, providing a solid base while allowing the loom to weave. Folding the loom is a breeze, with or without warp on it.
The Wolf Pup 8.10 is super compact with a footprint of only 28" wide x 35-1/2" deep.
The Wolf Pup 8.10 is perfect for schools and teaching studios where space is often at a premium.
The Wolf Pup 8.10 has stabilizing front legs to provide extra space for 10 pedals. The brake release lever, located on the outside of the loom, is easy to use.

Taller weavers should consider ordering the Wolf Pup 8.10 with an extension which makes the loom 2 inches taller and allows for better legroom.

The wood used is sustainably grown in the forests of northern Michigan and Canada. The oil used to finish the shuttles is applied by hand (not sprayed) and is free of ozone-depleting drying agents.
Made in Boulder, Colorado.
- Ros stainless steel (choice of 6, 8, 10, 12 teeth/inch)
- 600 Eyelet needles inserted
- 1 Brass hook
- 2 Rods of encroix
- 3 Apron iron bars
- 80 Fasteners
- 8 Canvas cords
- Assembly instructions
Schacht is a Colorado-based company whose mission is to spend every day making useful and beautiful tools that enhance their customers' weaving experience. Through innovative problem solving, craftsmanship and a commitment to continuous improvement, Schacht makes some of the most modern and easy-to-use looms and accessories on the market.
Made to order. Shipped within 5 to 6 weeks.
The price includes shipping to anywhere in Canada. For delivery in the United States or elsewhere, the charges will be calculated. Shipping charges are determined by value and weight. Please see our shipping information for important details on loom deliveries. For any questions regarding shipping, please contact info@irenetextile.com