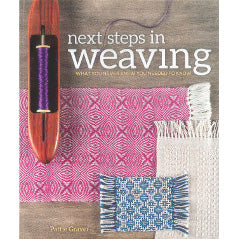 There is a lot to learn about weaving! As a new weaver, you might wonder what the next steps are to grow your skills. Next Steps in Weaving has the answers you're looking for.

In this beautiful book by Pattie Graver, former Managing Editor of Handwoven magazine, you'll be explore a variety of weave structures and concepts in depth and detail including twill, color-and-weave, overshot, summer and winter, and lace.

This is not just a book of weaving patterns. Each topic is explained and supplemented with instructions for weaving a sampler and a project in order to solidify the concepts and enable you to design your own projects. In addition, the book offers troubleshooting tips in order to expand your weaving expertise.

Whether you're new to weaving, have the basics down, or are looking to improve your foundation skills, this book will be an asset to your weaving library. So what are you waiting for? Take the Next Steps in Weaving!y group.
FREE SHIPPING ON PURCHASES OF Can$200 OR MORE
This offer is valid in Canada only and excludes taxes and gift cards.
*A surchage may apply on the shipment of large items as well as for shipment to remote areas. These fees are independent of the free shipping offer.
Orders are delivered in 2 to 5 business days in Canada. (Please note that the delivery of some items may take longer).
FREE RETURNS
This offer is valid in Canada only and excludes taxes and gift cards.
* Shipping fees are non-refundable, as are surcharges for large items and remote locations.

CONTACT US
If you have any questions, please contact us at info@irenetextile.com