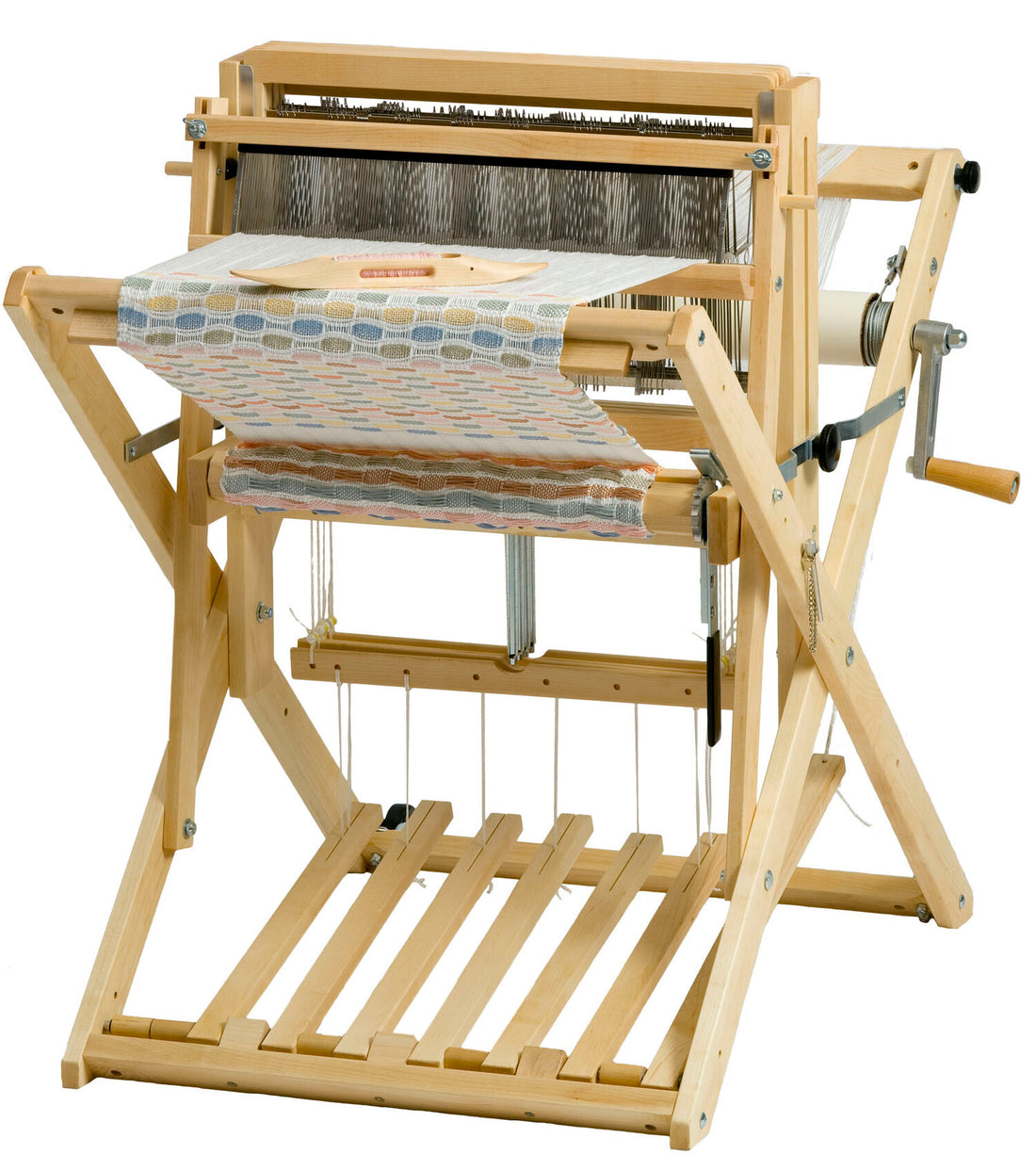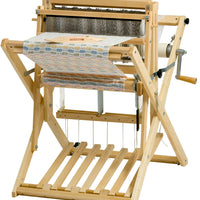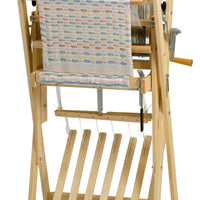 Wolf Pup LT Schacht Floor loom
Here is a 4-shaft loom you can easily take anywhere with you. The 18″ weaving width is ideal for workshops and for all those other narrow projects.
Schacht have used the same sturdy X-frame and barrel-nut construction for our Wolf Pup looms as use for other Wolf looms.
Schacht also use many of the same components: steel hub friction brake, brake release foot pedal, aluminum harness channels, and an attached beater pin.
The loom comes with stainless steel heddle bars and a stainless steel reed (choice of 6, 8, 10, 12 or 15 dent), and 300 inserted eye heddles.

The Wolf Pup LT features jacks and lamms, like its bigger siblings the Baby Wolf and Mighty Wolf, that allow shafts to be tied to any of its 6 treadles, in whatever combination your weave structure requires.
The Wolf Pup LT comes with the Treadle Tracker, a mini clipboard for holding your threading and treadling diagrams.
Taller weavers might consider ordering the Wolf Pup LT with height extender—it makes the loom 2″ taller, allowing more leg room.
You can accessorize your Wolf Pup LT with a 4-shaft Wolf Pup High Castle Tray, Wolf Pup Trap, Stroller (Wolf Stroller or Wolf Height Extender Stroller), Double Back Beam, and Sectional Beam.
The looms are of wood sustainably raised in forests in northern Michigan and Canada. The oil we use for finishing our wood is hand rubbed (not sprayed) and is free of ozone-damaging drying agents.

Made to order in Boulder, Colorado. Ships in 4-6 weeks
Schacht is a Colorado-based company whose mission is to spend every day making useful and beautiful tools that enhance their customers' weaving experience. Through innovative problem-solving, craftsmanship and a commitment to continuous improvement, Schacht makes some of the most modern and easy-to-use looms and accessories on the market.