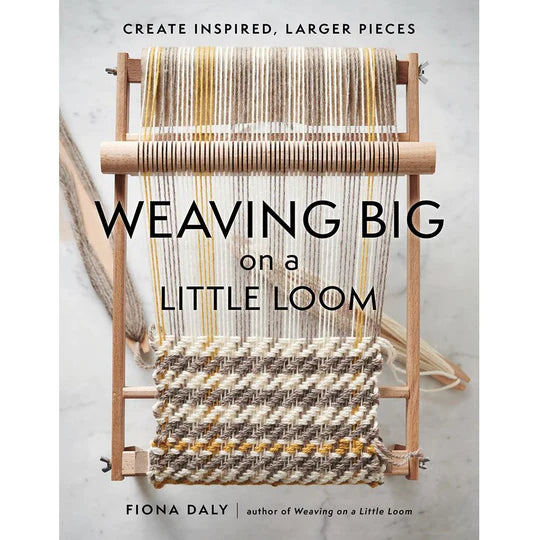 Weaving Big on a Little Loom
For intermediate and advanced crafters, these eight illustrated loom weaving projects help you create sustainable, attractive, and useful textile pieces for your home and wardrobe—or to give as gifts. This step-by-step guide to weaving large projects on a little loom is packed with over 200 color photographs.
Use your frame loom to create eight large, impactful weaving projects, including an oversized scarf, a snood, a shoulder bag, a mesh shopping bag, a bathroom mat, a table runner, and two types of cushions. With straightforward instructions, weave patterns, and vivid color photography, this helpful how-to guide leads you through each step of these inspired projects.
First, choose your materials, focusing on finding the best, most sustainable textiles and yarns for your project. Next, learn about a special type of frame loom with a detachable top and bottom bar that will enable you to create pieces up to six and a half feet in length. Learn how to create 8 different weave structures, then, try your hand at each of the eight creative large-scale loom projects that are sure to impress family and friends. Once you're finished, you can proudly wear, carry, or display your contemporary weave work anywhere. You can also learn how to make your own frame loom for large projects using a simple guide.
Titre :
Weaving Big on a Little Loom: Create Inspired Larger Pieces
Format :
Couverture souple
Dimensions de l'article :
144 pages, 10.65 X 8.35 X 0.75 po
Dimensions à l'expédition :
144 pages, 10.65 X 8.35 X 0.75 po
Publié par :
Chronicle Books
FREE SHIPPING ON PURCHASES OF Can$200 OR MORE
This offer is valid in Canada only and excludes taxes and gift cards.
*A surchage may apply on the shipment of large items as well as for shipment to remote areas. These fees are independent of the free shipping offer.
Orders are delivered in 2 to 5 business days in Canada. (Please note that the delivery of some items may take longer).
FREE RETURNS
This offer is valid in Canada only and excludes taxes and gift cards.
* Shipping fees are non-refundable, as are surcharges for large items and remote locations.

CONTACT US
If you have any questions, please contact us at info@irenetextile.com